Astrology Services Provided by me, Miriam Slozberg
I am able to provide many services to help you understand your life, what your life's missions are and understand who you are. I have studied Western astrology, Kabbalistic Astrology, both Pythagorean and Chaldean numerology. Astrology, numerology and doing tarot readings is a great passion of mine.
My whole life I have wondered why I have had to deal with what I do, why I have the limitations that I have, and why I was privileged enough to have certain gifts. I have helped many people understand why life treats them the way it does and it gives me great pleasure knowing that I have been able to help them out.
What I heavily look into is one person's karma and why one would have to deal with what he or she does. I have given people guidance and have helped them understand their karma. I am also able to do past life readings, especially through astrological analysis. I use both Western and Kabbalistic Astrology in my readings. And most importantly, I apply my gifted intuitive and clairvoyant abilities.
I also need to stress that I am NOT a fortune teller. I do not foretell the future I tell you about the energies you are going to be facing, and as a result WHAT SITUATION you very well may face. But I cannot make any wild predictions. We all have free will. However, when I do a past life reading, my clairvoyant abilities are extremely strong and I see the kind of life/lives you had lived.
I offer professional readings. My readings are very detailed and unique. They are done by phone or Skype and last approximately on hour and a half. Sometimes longer.
If you need to cancel a booked reading, please give me at least 24 hours in advance.
Here are a few testimonials from happy clients I have had who I did readings for:
I had Miriam do a reading for me, kind of just for fun, because I was sort of interested to see what it had to say, and planned to take it with a grain of salt, just like my I do my horoscope in Cosmo. But when I read the report I was amazed at how it was me exactly. It was dead on about a lot of the obstacles I have in my life, aspects of my personality, and the way I feel about myself and the world around me. It made a believer out of me. And I plan to use my report as a guideline to how to live my life and work on my problems. -BB
I would just like to say the reading that Miriam did for me was wonderful, and so much more than I expected. It was very informative, easy to understand, and totally amazing!! I loved every second of it. I would definitely recommend her to anyone considering getting one done, it is definitely worth it!! -BC
Miriam did a wonderful job on my reading. She helped me to understand the meaning behind some of the things that are going on and have gone on in my life, and gave me some insights into my future. Her reading was very interesting and informative. It was very well-written and easy to understand. She definitely made me interested in astrology. -JV
The general astrology reading is amazing, very unique, and soooo in depth! I still refer to it and it has been about 2 years since it was done! The best astrology reading I have EVER gotten. – SC
Miriam is very passionate and knowledgable when it comes to her work !She has a very therapeutic way of presenting her findings; they are validating, healing and very empowering. She is a wonderful soul and it is a pleasure working with her.
-Agnes Fehlau
Miriam is a profoundly intuitive astrologer working with both her extensive background and training in astrology together with her undoubtable gifts as a true sensitive. Also to be highly recommended is her current book in which she details her own experiences of past life therapy and how her own past lives have had such a profound affect on the person she is today. -Elise Wardle
After I shared my past life story on childpastlives.org I was lucky to meet Miriam who offered to give me an astrology reading. I have a hard time trusting psychics but her reading convinced me that what she saw was real. What also amazes me is that she was on the other side being a holocaust victim and I was a Nazi in a different camp. She is very friendly and gifted and I trust her with my information. Not everyone wants to deal with a reincarnated Nazi even if you did try to help the victims. It's amazing how many chances we get to evolve our souls. I'm just happy to share this experience with the right people this time around. -Grace D.
I can't recommend Miriam Slozberg as an astrologer highly enough. Amazing six-month transit reading this morning…better than therapy! Thanks again!
-Bridget LeRoy
A few years ago I was going through some really tough times. I met Miriam on an astrology message board I joined to find some help. She responded to my post and analyzed my astrology chart. The work she did was in such great detail and all came from her and not some computer astrology program. She writes with humor and compassion, often bringing up something from her past or her own chart that you can use to help you understand your chart and life. I still refer back to her interpretation of my astrology chart to this day. It is so helpful! I highly recommend her services! -Mary Patton
Miriam did my chart, and it revealed things about me that she could not have possibly known in advance. I found it to be very accurate. I highly recommend her.
-Rabbi Yonassan Gershom
General Astrology Reading $120
Includes a brief past life reading, natal chart reading, progressions, and what to expect within the next 6
months.
Six-Month transit Reading $80
This type of reading gives you an idea of the type of energies that you will be facing over the next 6 months through an astrological analysis. This does not predict what will necessarily happen. However, this is a good indicator of what to expect and I will guide you on how to handle these upcoming energies.
Past Life Astrology Reading  $150
I can do an astrological past life analysis for you. I can tell you based on your natal chart what kind of experiences you had in your last life. I can even give you an idea of how you passed on. I can also tell you the type of karma you are facing today based on your past lives. The year of your past death can also be determined with some methods that I use. This package includes the analysis of the immediate prior life to this, but I am able to do a regression on your previous lives as well. Depending on how deep you would like to go, there is an additional charge to this service as this process takes more work and time. Contact me if you would like more information on this.
Astrological Synastry Reading  $180
A relationship analysis between 2 people, whether it's husband/wife, girlfriend/boyfriend, 2 friends, parent/child, sibling, whomever it may be. I can find your easy points, challenging points and give you hints on how to work with any challenging points. I need your full name, time and place of birth AS WELL AS the other person's full name, place and time of birth.
Solar Return Reading- $80
What to expect between your birthday (either last or upcoming) to your next birthday.
Baby's Astrological Analysis-  $80
If you are expecting a baby, I can tell you where your child's strengths and weaknesses lie through astrological analysis. And what his or her personality traits and challenges will be. If you know of someone who is expecting a baby, this will make a perfect gift. Contact me once the baby is born. (Email reading report only)
Business Astrological Reading-  $150
This reading is for business owners or for those who are looking to start their own businesses for astrological advice. I will be able to tell you when the best time to launch your business is based on timing, or if you are planning to take your business towards another direction- this reading will delve into your business concerns.
Tarot Readings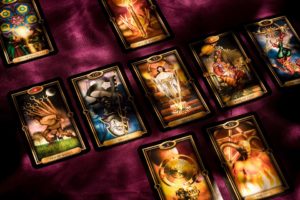 My tarot readings are insightful, down to earth, accurate, and empathetic. Through the tarot, I can find the challenges you are facing and the solutions that you are encouraged to take in order to create the best outcome. Again, as it has been mentioned already. You have free will. Nothing is ever set in stone. However, what I can find is the likely outcome that is based on the path you are going. You can always change things ahead. I can do readings in regards to the following life concerns:
Parenting or Family Concerns
Large Purchases such as a home or a car
Self-Growth
Any Major Decision (that does not involve health or pregnancy)
Have a peek at your past life and find out how it is affecting you today.
I will not read for anything that has to do with health and pregnancies for ethical reasons, sorry! But anything else, yes I can! Here is what I offer.
15 Minute Tarot Reading – $25
30 Minute Tarot Reading – $50
45 Minute Tarot Reading – $75
60 Minute Tarot Reading – $100
If you have any questions, please contact me at info [at] expressivemom [dot] com.