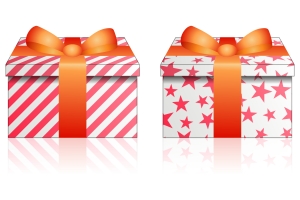 Most people dread the holiday season because it is a very expensive time of year- and knowing of at least 20 gift ideas for kids, or adults that won't break the bank will make the whole experience easier. However, dealing with the stress from overspending is not the only thing that people dread. If there has been a lot of family tension over the year, or if they are mourning over a loved one's passing – it all springs up during this very festive season.
Unfortunately situations such as a job loss, or hefty medical bills which are not covered by any health plan or insurance will definitely make your financial situation seem even more bleak. Financial struggles create even more stress at anytime of the year, and more so during the holidays. Whether you celebrate Christmas or Hanukkah and you are finding that you need to hang onto every dime that comes to you, your kids need to understand that this year you will not be able to get them those fancy gifts they were excited about receiving.
In order to spare them from being disappointed that they did not get the gifts they were hoping to get, you must sit down with them and discuss that because money is very tight- you need to be as frugal as possible and will not be able to afford that iPad your teenager was looking forward to getting. If you have an 8 year old daughter that has been looking forward to getting an expensive doll house- you need to let her know that you are not going to be able to fulfill her dream and explain the reason. Sure, your kids will be disappointed however if you point out that you need to have x amount of money to pay for food, utilities and other taxes- then they will realize you are not a money tree. This will also give them an opportunity to be thankful they will be receiving a gift considering how tight money is because many kids receive nothing during the holidays. Point that sad reality out to them as well.
There is good news. You can still buy your kids gifts that they will enjoy, and stay within your budget.
Listed Below are 20 Gift Ideas for Kids that won't Break the Bank
Balls– This one is more for younger kids, as well as kids with autism and other special needs. Fortunately really young kids will be happy with a simple gift like this, and not to mention balls teach eye hand coordination.
Puzzles– Another great gift for very young kids, as well as kids with autism. Most kids like puzzles and they will be kept busy as well.
Dress Up Clothes– You definitely do not have to spend a fortune on a store bought dress up outfit! Go to your local thrift store, give some pretty hand me downs, or clear your closet. Dressing up will be fun for older toddlers as well as kids under 12 (or beyond).
Play Dough– Most kids love this one. Play Dough is a non toxic, fun and an inexpensive gift for toddlers as well as for older kids.
Stuffed Animals– Kids of all ages love stuffed animals. Some can be expensive so make sure you find the best deals where you can.
CD's– Kids love music, and CD's these days are quite inexpensive. Just make sure that your kids are not listening to anything too mature!
Books– This is a great gift for kids to broaden their minds, and to keep them busy.
Journals– They need to have a place to vent and put their feelings, this inexpensive gift may be priceless to your kids when they need a safe place to express their feelings.
Pens– You can get some novelty pens for less than $10 that your kids will absolutely love.
Craft Supplies– If they are crafty or good with their hands this is a fun gift.
Models– A lot of boys like to create models, and they would enjoy a gift like this.
Pedicure– Many teen or preteen girls would love this, and you can have one done for less than $20.
Sports– If your kids are into sports, get them a poster of their favorite sports person- or anything related to sports!
Party– Create a coupon or certificate agreeing to throw a slumber or regular party for them, they will appreciate that.
Clothes– Most teens love clothes and the time to get it is during the hot sales.
Magazine Subscription– Most magazine subscriptions are fairly cheap and range from $10-$25.
Board game– Get a great game that a teenager will like and tape a coupon on it for a fun day with family and friends to play it.
Gift Cards– Teenagers really like to shop regardless of gender.
Beauty Supplies– Most teenage girls love anything related to beauty.
Disposable Cell Phone– If you cannot afford a cell phone, get them a disposable one. At least they will get it for a bit and it will encourage them to work for one if they love the idea of having a mobile phone!
Staying within your budget during the holidays will help remove some of the stress. And when it comes to buying friends and family gifts, do what you can and inexpensive gift cards are also an idea. This article will also provide other frugal gift ideas. However, since your kids will be aware that you are not able to spend a lot of money on gifts- this will really make them understand that money just doesn't grow on trees, and that money must be earned.