Before you know it, that newborn that you just brought home will no longer be snoozing for a good part of the day, and immobile. That newborn will grow, mature and start becoming mobile as soon as he or she begins to crawl in just a few short months! That is the time when parents need to begin to babyproof their homes, as babies are incredibly curious, and will enter zones that could be potentially dangerous.
And, any parents' top priority is to make sure that their baby is kept safe. That means to keep things out of the baby's reach such as glues, cleaning products, insect sprays and poisons, glassware, and sharp objects. You also want to make sure that any small object is hidden from the baby and out of his or her reach because those can be potential choking hazards.
Even though your newborn will not be crawling, and won't be crawling for several months, it is never too early to start childproofing your home so your baby remains safe once he or she begins to crawl.
The product to get that will ensure the safety of your baby once he or she becomes mobile is the Rafelymen Baby Cabinet Locks.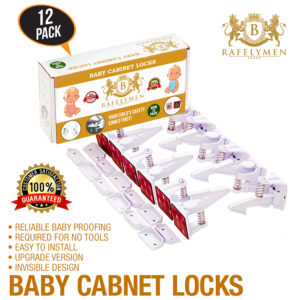 This product is not only quite elite when it comes to babyproofing, but it is so easy for parents to set up. There is no need to use any tools to set it up and does not require drilling at all. And you can leave your tape measurer behind because no measuring is necessary at all.
You can childproof your drawer, as well as cabinets and drawers. The lock for the door comes with a 3M (red) adhesive, and it won't stick out since the childproof locks are invisible!
So, when it comes to the best childproofing locks that are easy to install, and don't stick out in any way at all- you cannot go wrong.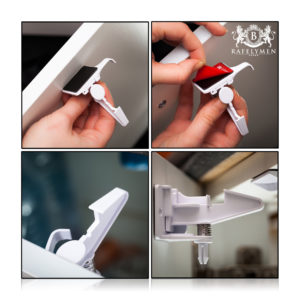 The Rafelymen Baby Cabinet Locks received so many amazing reviews from happy customers, and some examples of the reviews are:
I love these child safety looks because they stick and do not require any hardware. My little girl is so busy and these are a lifesaver. My best friend is having a baby and I'll be ordering her some ASAP.
I just had a baby so we have been in the process of childproofing. These locks are great. They were really easy to install and stay secure. It's going to be hard for myself to get into my cabinets.
Purchased these because you do not have to install with screws. Just sick them on and your good to go! Didn't have to bother hubby. My granddaughter is almost walking and has found the cabinets! Work great and holding well so far!
These child locks are a life saver. I tried 2 other locks but didn't like them. When I found this I knew I will love them. My husband installed them in the kitchen and bathroom for less than 5 min. He is impressed with the quality and with easy installment.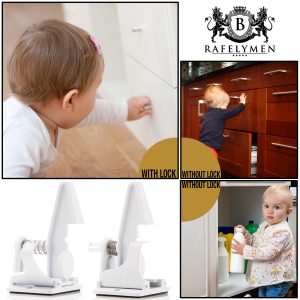 Purchase the childproof locks on Amazon!
Be sure to subscribe to Rafelymen's YouTube channel right here as you can learn more about the product.