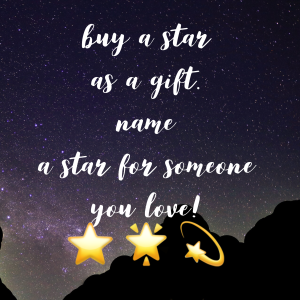 You have a friend whose birthday is coming up, or you have a friend that is getting married, or one of your friends just had a baby but you are unsure of what to give for a baby shower gift. That is the problem right there, as you don't have any real fun gift ideas that your friends may appreciate- and you want to get them something unique and fun. They may want you to get a gift that they can use for their home if it is a wedding, or something for the baby if it is a baby shower. You can certainly get your friends something that they can use. But you want to also surprise them with something cool!
Yet at the same time, a silly gag gift that is seen at novelty shops like the Stupidiotic store at the New York New York hotel in Las Vegas, Nevada is not what you really want to get your friends. It's not unusual enough, and not to mention they may be a big turn off without you even knowing. The last thing you want to do is upset your friends! However, there is good news! You can buy a star for your friends and they will most definitely love it.
The Star Naming Service in Canada allows you to buy a star as a gift, and you can name a star for a loved one. The star is not meant to be usable in anyway other than to bring a smile on someone's face, and that is the purpose of this amazing service!
Like it was mentioned before, you could buy your friends a star for birthdays, weddings, and baby showers. This neat gift is also great for Christmas, Friendship Day, and provides a wonderful message of love for your significant other for Valentines Day or on any other occasion!
There are so many choices to choose from as far as the kind of star you want to buy and name. You can buy a binary star which is ideal for weddings and for Valentine's Day which includes a personal dedication, three copies of your star certificate as well as a planetarium software and mobile app.
And if you want to give your friends a stellar birthday gift, you can buy a star in a constellation. That includes two copies of your star certificate, a personalized gift and star in a constellation, and the software and app.
You can also name a visible star which is a great gift for any occasion. Once you name the star, you immediately are entered into the star registry. You also get a high-quality star certificate, a personal dedication and a clearly visible star in this package. You also get the software and app like you do in the other packages.
They are also priced quite fairly so you don't have to worry about spending a fortune.
Doesn't this service sound incredibly cool and unique? Absolutely! It provides neat gift ideas for your loved ones regardless of the occasion. The next time you are unsure of how to surprise your friends with a cool gift, you can always give them a star!