The Ultimate Illustrated Guide to Sewing Clothes is the latest book from Joi Mahon. The book is composed of all the skills a new or experienced sewer would benefit from learning or improving so that they can create a wardrobe of fashionable garments with an expertly tailored fit.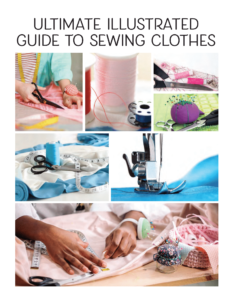 Basic sewing skills are covered, such as stitches, fabrics, and how to achieve the perfect fit. It is designed to take the reader on a journey to sewing mastery while learning how to sew classic core garments. 
In addition to all the tips, she learned from over twenty-five years of sewing professionally. With its modern and up-to-date illustrations and photography, she believes it will make an excellent addition to any sewer's library.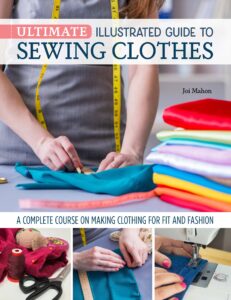 Who Is Joi Mahon?
Founder of Dress Forms Design Studio, LLC, owner of The Sewing Factory, Joi Mahon is an award-winning designer, expert in fit, and a fashion entrepreneur with a varied range of sewing interests. 
As a McCall Licensed Pattern Designer and Craftsy instructor, Joi created a private membership program on Facebook called Designer Joi's Perfect Pattern and Fit Club. 
Additionally, she is a brand ambassador for Baby Lock Sewing Machines and Mettler Thread and the founder of Nancy's Notions Wardrobe Builder Fashion Sewing Program on YouTube. 
She attends several trade shows each year and specializes in fitting solutions. 
Based on her real-life fitting experiences, Joi teaches what works for the body based on real-world sewing and appropriate solutions. 
She has also written Create the Perfect Fit and Designer Joi's Fashion Sewing Workshop before the Ultimate Illustrated Guide to Sewing Clothes. If you want to learn more about her work, go to her website, https://dressformsdesign.com/, and follow her on Facebook at DesignerJoiMahon.
Joi is also giving away a copy of the Ultimate Illustrated Guide to Sewing Clothes! Here is the giveaway link right here and you will want to ensure you grab it before it is over!