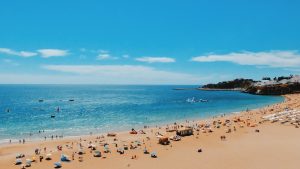 Vacations are a great way to bring the family closer together, but they can also be expensive. No matter how big your yearly travel fund might be, it's important to budget carefully so that you can make the most out of every trip. Here are some tips on how to manage your finances for your next big family vacation.
Transportation
When taking a domestic vacation, many families choose to travel by car. This is often the cheapest option, as the only costs to factor in are gas and maintenance fees. When going to destinations that are farther away, however, a car is not always practical.
Trains and planes are usually the best way to get to vacation destinations that are across the country or overseas. Traveling by train or by plane requires that you plan your trip out well in advance to find the lowest prices. The earlier you book, the better deals you can find. You should aim to reserve tickets at least six months in advance of your trip, if not further ahead of time.
If you plan to fly with your family, you may be able to save by taking advantage of frequent flyer programs designed to make airfare cheaper. You can also look for niche airlines that offer more affordable travel options, but keep in mind that many of the prices shown online are only baseline prices. Additional baggage and handling fees may end up making the cost per passenger greater than with other, higher-priced airlines.
Families traveling by plane also need to consider the cost of transportation to and from the airport. You may need to pay for a cab ride to catch your flight, if you drive, you may need to pay a daily parking fee. You should also have transportation arrangements upon arrival to your destination, whether you plan on using public transit or renting a car.
Lodging
When traveling, you can find all sorts of accommodations, from hostels to five-star hotels. If you're vacationing with children, especially young children, you want to make sure that your choice of lodging offers the basic necessities, including fresh water, clean beds, and a safe environment.
You can save money over a hotel room by opting to camp instead, though this isn't always practical in colder weather. Renting an apartment out may also be cheaper than booking a hotel room, though you may have to forgo certain services such as cleaning and laundry.
Food
The price of food will vary depending on where you are and what you choose to eat. You can find everything from delicious cuisine sold on street stalls to high-end gourmet cuisine. You should come up with a daily food budget to follow so that you don't end up overspending on appetizers and cocktails.
If you get a hotel for your trip, you can save a significant amount by finding an establishment that offers free breakfast each day. This allows you and your family to fill up on food early so that you can enjoy a light, inexpensive lunch followed by a complete dinner. If you're not sure where to eat, your hotel's front desk may be able to offer restaurant recommendations within your price range.
Souvenirs
No matter where you go, you're sure to pass local shops boasting souvenirs that are sure to catch your children's eye. Bringing a little something back home to remember your trip is an almost irresistible temptation, but it can be easy to overspend on trinkets and treats. Before going on your trip, you should set a per-person limit on souvenir spending to ensure that both you and your kids spend responsibly on your vacation.
No matter what your financial situation might be, it's easy to plan a fun and fulfilling family vacation with proper budgeting, even during peak travel seasons such as the winter holidays.
When searching the best travel deals, there are many online sites such as Expedia or Hotels.com, which provide a number of products and services to help you get the best deals. It's a good idea to plan your vacation and shop around to get the best deal possible. Advance bookings can save you up to 40% off your total price, so be smart and be sure to get the best deal for your perfect vacation.