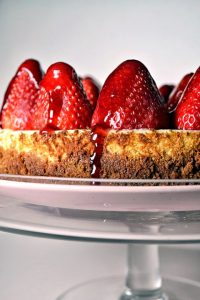 I found a super exciting easy diabetic friendly recipe for the family to enjoy. Again you do not have to be diabetic to enjoy these low sugar or sugar free desserts. Sugar is not good for anyone and it is best to limit it as much as possible. Here is a fantastic recipe for a berry lemon cheesecake.
The preparation time is only 25 minutes and you refrigerate it overnight. There is no cooking involved either, and this particular recipe is meant to serve 12 people.
Ingredients–
Fruit Base–
60g Dried apricots
60g Dried figs
70g semolina, coarse
60g Dried pitted dates
Cheesecake–
300g low fat ricotta cheese
2 tbsp fructose or caster sugar
250g French vanilla fromage frais, light version
250g lemon flavoured fromage frais, low fat version
2 tbsp freshly squeezed lemon juice
2 tsp grated lemon zest
1 tbsp gelatine
2 egg whites
125g strawberries, halved
125g blueberries or raspberries, which ever you prefer.
This is what you do. You line the base of a 20cm spring form cake tin with plastic wrap and lightly spray some oil on lining. Then place some baking paper over the plastic wrap. To make the fruit base, process all the ingredients in a food processor until finely chopped, add the semolina and blend until combined. Spread this mixture evenly onto your prepared cake tin and refrigerate.
Next, place the ricotta and fructose or caster sugar into a food processor and blend until smooth. Add the both fromage frais, lemon juice and zest and mix well. Transfer this to a large bowl.
Place 3 tablespoons of water into a bowl and sprinkle the gelatine evenly over the top and allow it to go bubble and become spongy looking. In a small saucepan, bring some water to the boil, remove from the heat and place the bowl with the gelatine mixture inside the saucepan allowing the water to only come half way up the sides. Stir the gelatine until it becomes dissolved and clear. Allow cooling before transferring to the ricotta mixture.
Next beat the egg whites until soft peaks form and gently fold this into the ricotta mixture. Pour this mixture evenly over the fruit base and refrigerate overnight. Once it has set, carefully remove the cheesecake from the tin by easing the plastic wrap from the sides. Make sure you use a spatula to help you lift the cheesecake from the baking paper and remove the plastic wrap. Place your cheesecake on a serving plate and decorate with the strawberries and berries of your choice.
This is an amazing cheesecake that is low in sugar and for anyone to enjoy, whether you are diabetic or not.