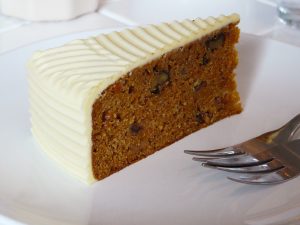 Who likes carrot cake? I am not sure if everyone does but I sure do and so do my kids. I am trying to lay low on the sugar, especially now during the holidays while school will be out for a few weeks. The less sugar they have, the more calm they will be. Besides, too much of it sure is not good for anyone. I have been collecting diabetic friendly dessert recipes to indulge the sweet tooth without worrying too much about sugar consumption. I found this great one for a diabetic friendly carrot cake. Here is the recipe.
Ingredients
Margarine and flour for pan
1 1/2 c. all-purpose flour
1/4 c. whole wheat flour
1 tsp. baking powder
1/2 tsp. baking soda
1/2 tsp. ground cinnamon
1/2 tsp. ground ginger
1/4 tsp. salt
1/2 c. vegetable oil
6 tbsp. sugar
2 eggs
1/4 c. unsweetened pineapple juice concentrate
1 tsp. vanilla extract
1 c. shredded carrots
1/2 c. golden raisins
1/2 c. unsweetened, crushed pineapple, drained
Preheat oven to 350 degrees. Grease and flour a 9 x 5 x 3 inch loaf pan. In bowl, toss flours, baking powder, baking soda, cinnamon, ginger, and salt. In a second bowl, stir oil, sugar, eggs, pineapple juice, and vanilla. Stir liquid into dry ingredients until smooth. Stir carrots, raisins, and pineapple. Scrape into prepared pan. Bake for 35 to 40 minutes until a pick inserted in the center of the cake comes out clean. Cool in pan on a rack for 1 hour. Un-mold cake and ice with Cream Cheese Frosting. Cut into 1/2 inch slices to serve. Serves 18 and enjoy.