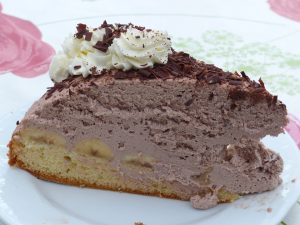 I have been having so much fun posting different recipes lately because the weather is getting colder here, and I am collecting fun activities to do with the family during the fall and winter months. Baking is always fun but you want to stay healthy. Diabetic friendly recipes are the way to go whether you are diabetic or not because the sugar content is cut down significantly. We know how bad sugar is for you! For anyone.
I am about to share a delicious chocolate banana cake and this one contains a small amount of sugar in the ingredients.
Chocolate Banana Cake
¼ cup of water
1 ¼ cup of boiling water
1 teaspoon vanilla extract
½ cup mashed bananas
½ teaspoon salt
¼ cup and ¾ cup of unsweetened cocoa powder
½ cup equal sugar lite
¾ cup of butter
½ cup of brown sugar
1 egg beaten
2 teaspoon butter
¼ teaspoon ground cinnamon
1 teaspoon baking powder and 1 cup of all purpose flour or baking flour.
After doing this then you heat your oven to 350*degrees, then combine ingredients in a good size mixing bowl, then separately you heat the butter in a saucepan at medium heat.
After that you turn of the fire and mix these in the mixing bowl with the other ingredients, the end result should be very thick and this should be put particularly in a glass baking pan and spread very evenly.
After you have done that then you can move to the sugar that should be mixed with a quarter cup of cocoa and boiling water until it is totally blended then pour it completely over the chocolate batter and do not stir it. There you go and enjoy!