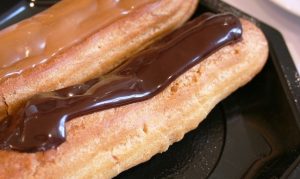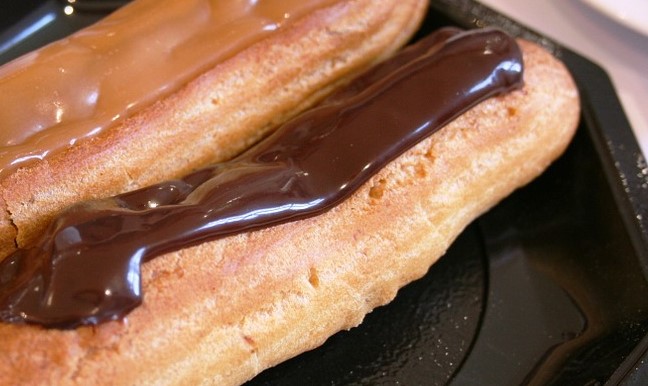 Well I had a nice break and took a break from blogging over the holidays, but now that the holidays are over, and life is returning back to "normal", (whatever that is) I am back to blogging about diabetic friendly recipes, and parenthood, etc. So I found a fantastic diabetic friendly recipe for making eclairs that are perfect for diabetics! Here it is!
Ingredients
– 1/2 cup water
– 1/4 cup butter
– 2 eggs
– 1/2 cup all-purpose flour
For the Vanilla Filling-
– 1/4 teaspoon vanilla extract
– 1-1/4 cups cold fat-free milk
– 1 package which is 1 oz of sugar-free instant vanilla pudding mix
– 1 cup fat-free whipped topping
For the Chocolate Topping-
– 1 package which is 1.4 oz sugar-free instant chocolate pudding mix
– 1-1/2 cups cold fat-free milk
This makes 8 servings, and bring the water and butter to a boil in a large saucepan. All the flour and start stirring until the smooth ball is created. Take it off of the heat, let it stand for 5 minutes and then at one at a time, add the eggs. Beat it and keep beating it until it is smooth, and then transfer it into a resealable plastic bag.
Then take the bag, and cut a hole in the corner. Pipe eight 3-1/2-in. logs onto an ungreased baking sheet. Bake at 450° for 10 minutes, and be sure to turn down heat to 400. Then bake it 15-20 minutes longer or until it's golden brown. Take it over to a wire rack, and cut a slit in each to allow stream to escape right away. Be sure to let it cool. Split and set the tops aside and get rid of the soft dough inside.
As far as the filling goes, whisk milk, vanilla and pudding mix in a large bowl for 2 minutes. Let stand for 2 minutes or until soft-set, and fold in whipped topping. Set it aside. In another large bowl go and whisk milk and chocolate pudding mix for 2 minutes. Be sure to let it stand for 2 minutes or until soft-set. Spoon vanilla filling into eclairs and replace the tops. Spread with chocolate topping, and then enjoy it!!