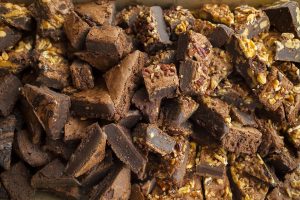 Everyone loves to bake and eat sweets! We also know that consuming too much fat and sugar is not good for us. That's why I once in a while share a good diabetic friendly recipe. It doesn't matter whether you are diabetic or not. Sugar is not good for anyone. And who doesn't like brownies? I have a great diabetic friendly fudge cake recipe for you to try out with the family.
Diabetic Fudge Brownies
1 square of unsweetened chocolate
1/3 cup of butter
2 tbsp of artificial liquid sweetener
2 tbsp of vanilla
2 eggs
1 cup of cake flour
1/2 tsp of salt
1 cup of walnuts
Melt butter and chocolate in saucepan over low heat. Remove from heat. Add sweetener, vanilla and eggs. Stir until well blended. Add flour, salt, soda and mix well. Fold in chopped nuts and then pour into a lightly floured and greased 9 inch square pan. Level batter and bake at 325 degrees 20-25 minutes. Cut into squares when cooled.
Go and have your cake, and eat it too.