The rules and regulations are strict when it comes to taking passport photos. You cannot smile, and you must look straight at the camera as the picture is being taken. Older kids and adults can easily make that happen, however, when it comes to babies and toddlers, that becomes a big challenge. 
Firstly, babies cannot follow those instructions that involve them to stay still, to keep a neutral face, and to look straight into the camera. This is why parents of babies dread the day that they have to take their passport photos. They could be at the studio all day long just to get a decent picture that will be passable. That is quite exhausting. And if you are a parent of a baby that is in this position, you are about to hear some very good news. 
The good news is that you can have your baby's picture taken from the comfort of your own home and have it converted to a passport photo. The company Vistafoto makes this possible. Vistafoto can take a picture that you take of your baby at home and turn it into a passport photo that will be passable. This means you never have to worry about stressing out all day at the studio struggling to get a good passport photo of your baby again.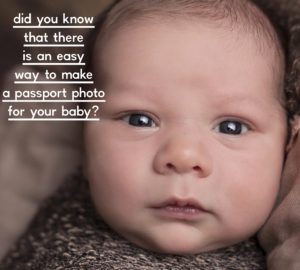 However, you cannot just upload any random photo of your baby over to Vistafoto as the passport rules will always apply. In other words, if you take a photo of your baby smiling while laying on the grass, a photograph like that will not be accepted. However, don't worry. Vistafoto has provided instructions on how to take the best photo of your baby that they will be able to convert into a passport photo. The steps are:
Make sure your baby is in a good mood and is well-rested before you start. 

Go into a room with good lighting that has a hard floor, and put a blanket on it for your baby to lie on. Before putting your baby onto the blanket, put a white sheet on it as a white background is necessary. 

Make sure that your baby is wearing dark-colored clothes for it to make a good contrast with the white sheet. Once that has been achieved, then put your baby onto the sheet lying on his or her back. 

You are going to need your baby to look right into the camera. That means you need a toy that will get your baby's attention. As you begin taking your baby's picture, be sure to hold the toy in your other hand so your baby looks at it. And by doing that, your baby is looking right into the camera. 

Take many shots, as you will need to take one with your baby's mouth closed, eyes wide open, and with the ears visible for the photo to be passable. If you take many shots, then surely you will get a good picture in there. If your baby begins to cry during the sessions, don't take any pictures until your baby calms down and has his or her mouth closed. 

If your baby is not cooperating at all, then you can hold the baby as someone else takes the photo. However, it is important that the shot of the baby is taken and nothing else is in the background. That means no traces of yourself can be in the photo. 
Once you find a good photo that you or someone else had taken of your baby, you can go to vistafoto.com, and upload it there. The passport photo will be developed in just a matter of seconds. And that is it! There is no stressing yourself and your baby out at the photo studio! All you needed to do was take the perfect photo of your baby at home. Vistafoto is another example of how technology can reduce stress levels by adding so much convenience to life!
Go to https://vistafoto.com to get the perfect passport picture for your baby, your other kids, and yourself!