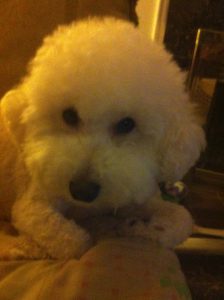 My pooch, Brady is now 6 years old. I admit after each birthday passes, I become sad because dogs have short lifespans- and when they age a year, its significant for them. However, at the same time, I am making sure I do everything I can to keep him healthy and thankfully it is working. He is very healthy. He eats natural dog food and the treats we give him are of high quality. I thought I would also do something special for his birthday, which is making treats for him from scratch. In fact, that does not even have to be a birthday treat for Brady. I can make these treats at anytime. I will share with you an easy and good dog treat recipe that so far has earned an A according to Brady.
Here are the Ingredients–
1 1/2 Cups Whole Wheat Flour
1/2 Cup Quick Oats
2/3 Cup Skim Milk
3 tbp Canola Oil
What you need to do is to take a large mixing bowl and add the skim milk and oats and allow to sit for 5 to 10 minutes. Afterwards, mix in the oil and the flour at 1/2 cup at a time until a stiff dough forms. Now you have the biscuits dough, next place on the dough on a surface and roll to desired thickness. You can now cut them into the shapes you want.
Place on sheet and bake at 350 degrees.
If the dough is rolled into approx 3/8″ diameter you should bake 30 to 35 minutes.. but ensure the dough is golden brown.
HOT TIP: After shutting off the oven leave the dog biscuits in the oven for a couple hours to make sure they are dry and crunchy. Crunchy is good! Dry is good too!