If there's anything your kids will love better than a big snack plate, it's a big snack plate with homemade caramel dipping sauce on the side. Think about it: Dips are perfect kid food. They turn typical eats into fun activities. While children may usually enjoy eating their apple slices, pretzels, crackers, and cookies, they'll like them even more when they get to glide each bite into gooey caramel. 
Want to make your creamy caramel dipping sauce to upgrade your snack game? Curious about other uses for caramel sauce? Here's a look at how to make it, as well as a few ideas for using yours in a kid-friendly way.
A Trustworthy Recipe for Caramel Dip
The following recipe is an easy way to create caramel sauce at home. The secret ingredient is sweetened condensed milk, making for a creamy, rather than crunchy, caramel result. While the salt is optional, it serves to enhance the caramel flavor and balance sweetness.
Ingredients
7 tbsp. Salted Butter
¾ c. Light Corn Syrup
2 c. Granulated Sugar
½ c. Sweetened Condensed Milk
1 ¼ c. Whipping Cream, Warmed in Microwave for 30 to 60 Seconds before Using
½ tsp. Salt or to taste (optional)
2 tsp. Vanilla Extract
Directions
Start by melting butter in a saucepan over medium heat. Stir in corn syrup, sugar, and sweetened condensed milk, mixing continuously to prevent scorching the bottom. Once the combination reaches a golden-brown color, remove it from heat. Slowly stir in whipping cream and optional salt. Return pan to heat, and stir mixture over medium-high until the caramel bubbles. Keep heating and stirring for five minutes, letting caramel firm up; remove from heat and stir in vanilla. 
At this point, the caramel is thin, perfect for pouring on top of ice cream or adding to a hot drink. To get it to the right consistency for dipping, let it cool for half an hour. 
Ways to Use Caramel Dip for Snack Time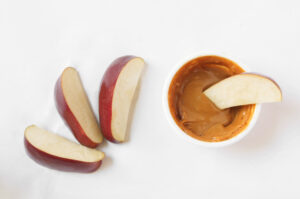 The most obvious way to use caramel sauce is arguably the best: as a dip for fruit, cookies, and pretzels. That said, there are dozens of other possibilities. Here are a few worth considering:
Add 1/4 cup to pancake batter.

Heat and drizzle some atop pancakes, a Dutch baby, or French toast.

Use some as the liquid sweetener in a granola recipe.

Spread on buttered, salted toast.

Make caramel bacon by brushing sauce on bacon slices, laying them on a rack on a rimmed baking sheet, and cooking for 20 to 25 minutes at 400F degrees, flipping halfway through and brushing with more caramel. 

Mix with cream cheese, dried fruit, and nuts to make a spread for bagels or toast.

Heat and pour over popcorn, with marshmallows and confectioners' sugar to form into balls if desired.

Combine six tablespoons sauce with six tablespoons cocoa powder and four cups of milk in a saucepan over medium heat. Serve the caramel hot chocolate with marshmallows. 

Give the sauce an autumnal twist by combining a cup of caramel sauce with 1/2 cup pumpkin puree, 1/2 cup water, and a pinch of cayenne for kids who like spice. Heat and stir until thickened.

Use it in an upside-down fruit cake by melting 1/2 cup with two tablespoons butter and pouring into a buttered cake pan before adding sliced fruit and cake batter.

Heat it in a saucepan with an equal amount of chocolate hazelnut spread to create a caramel-chocolate spread that goes great with pretzels.

Try a twist on traditional honey mustard by mixing equal parts caramel sauce, whole-grain mustard, and yellow mustard in a bowl.
Kids (and adults!) of all ages can't help loving creamy caramel appeal, especially in a homemade sauce. Use the recipe in this post to make your own, and have fun experimenting with the many ways to enjoy it together!
About The Author
Author bio: Samantha Kowalczyk is a sales manager with more than 15 years of corporate and wholesale experience, managing accounts for some of the world's largest brands and retailers. Marks brings her sales knowledge and leadership to Mrs. Prindables, overseeing the company's Corporate Gifting, Promotional Products, Department Store, Affiliate, and Wedding programs.

Resources:
https://www.mrsprindables.com/caramel-dipping-sauce-recipe/
https://www.foodnetwork.com/recipes/articles/50-caramel-sauce-treats