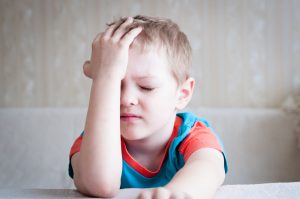 Headaches are often expected to be something from which only adults suffer. An important thing to realize is that children experience these symptoms of pain, too. A few common triggers of headaches in children are stress, too much or too little sleep, excessive consumption of caffeine, and skipping essential meals. Behavior problems also could be a cause of headache attacks in children, or a result of migraines. There are different types of headaches for children, including occasional or ongoing.
Children between ages 5 and 9 often experience common abdominal headaches, which can develop into more severe headaches later in life. The average age of onset for migraine is 7 for boys and 10 for girls. However, symptoms may appear in much younger children. A tension-type headache is a common headache often affected by stress or emotional conflict. Cluster headaches usually begin in children over age 10, but they tend to be more common in adolescent males — and recur annually.
During a headache, most children are sensitive to light, smells and noises. They may feel dizzy or nauseous, and just want to snooze. As recurring head pain tends to interfere with daily activities, it's important to recognize the symptoms of headaches in your child so that you can help him/her feel better again. In the following presentation, learn about different kinds of migraine headaches in children, their symptoms, and how you can treat and relieve the pain.