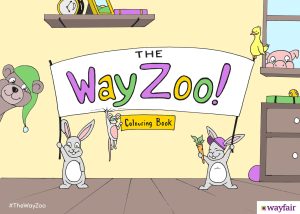 We might be in the home stretch of Winter but we're bound to wind down but we're bound to wind up with at least a few more snow days in Canada. That probably means there's still room for a few more indoor activities to do with the kids before the season is over. That's why Wayfair.ca created The WayZoo Colouring Book, a free 10-page printable colouring book featuring cute animals in the home for kids to colour and make their own. And to celebrate the launch, Wayfair.ca is pairing it with an art supply prize pack giveaway including an easel, chalk, markers and paint.
Below are samples of the colouring book:
All you have to do to enter is send in a scan or a picture of your artist's creation to
wayzoosweepstakes [at] wayfair[dot] ca!