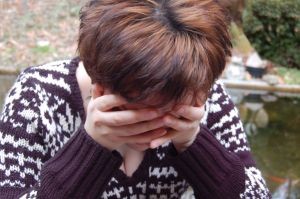 When you hear about someone going through a "mid-life crisis", you usually think of that stereotypical scenario of some guy in his 40's impulsively buying a sports car and dumping his wife for a younger woman. Well, let me tell you that is just a stereotype and dealing with some kind of mid-life crisis or transition is not something that only affects men. Many women are very much affected by it as well, and not to mention it is very real. People going through it are affected individually, but many women who are in this phase end up confused, feeling lost and depressed.
Many mothers who have given up their lives taking care of their kids, the home and their husbands end up putting their needs and wants on the back burner. As a result, it comes to a point when these women question who they even are, as well as the purpose in their lives- and many of them end up wondering if there is anything in store for their lives beyond what they have been doing for years or even a few decades. They may be full of regrets for making poor decisions that had gotten them into their current situations that are less than satisfying- and feel trapped. Plenty of these moms going through this phase also realize that they don't have all of the time in the world to make their dreams come true, and start wondering when or if they can ever make that happen. There are many mothers who are also sandwiched in by caring for their children as well as their aging parents which can push the caregivers' needs aside even more. It is no wonder that so many moms reaching mid-life become depressed, become bored with their marriages and have a urge to just want to leave their responsibilities to do live their lives once and for all. Some have even filed for divorce just for this reason alone. However, filing for divorce and leaving the kids, and other responsibilities behind for this reason alone is not going to help. In fact, it will only make matters worse and will create massive regret later on. Many people also go through a deep reflective time when they are around 60. Think about how you would feel then if you took off on your family because of feeling trapped during your mid-life.
However, there is no guarantee what tomorrow will bring, but odds are if you are a woman who is going through this phase right now- your life is not over and you can start making plans to do those things on your bucket list now. Let's put the feelings of boredom, being trapped, dissatisfaction and even those depressed emotions aside and point out how you can plan for a more exciting life for the future.
1. Accept Where you Are Now– Beating yourself up for not making good decisions earlier in your life that had gotten you to bad place now isn't going to solve the issues you are currently facing. You need to accept where you are right now, and that does not mean to settle. Acceptance will bring you to a point where you are fully aware of where you are and what you would like to make better so you can start taking action.
2. Set Boundaries– This is where so many women, especially mothers struggle. They are afraid to say "no" and yet end up depleting themselves by constantly putting their needs aside. Are your kids depleting you? Then you need to encourage them to be as independent as possible. I know many moms have kids with special needs like myself, however it is very important that these children are as independent as possible as well. In some cases I realize that may not be possible – in that case ask for help, and make sure you don't overdo it to the point that you are depleted. If you are caring for aging parents, demand help from other family members and only do what you know you can do to help and nothing more.
3. Stop Feeling Guilty– This is also a huge one that will create burnout and will stir up the mid-life emotions even more in a negative way. For instance, if you are no longer able to care for an aging parent, then this is the time to start looking into help outside of the family. I also want to bring out that my son has special needs and I know that he will need assistance of some sort during his life (this also comes with acceptance). Because I know this, and because I know he will be better off living away from home when he is an adult by being more encouraged to live up to his potential, I am already making plans for his transition. Unfortunately many moms who have kids with special needs feel guilty if they even think about doing what I am doing and intend to care for them life long, not being realistic about how they will likely feel and how their other kids could be impacted. There is nothing to feel guilty about making plans like this. You have needs and wants too that need to be met. If you keep sacrificing your life, you will only feel more resentful, depressed, depleted and will not be a good friend, mother, sister and daughter! Don't feel guilty about not being able to do it all. That is because you can't and when you reach a limit, don't push it!
4. Find Out What you Really Want and Go After it– What do you want to see happen in your life? What would you like to achieve? Do you want to start a business or expand on your business? Then carve away time just to focus on that! That time is your time to plan on making a dream come true. Your kids or husband cannot interrupt you during this time. Make that clear! Do you want to travel somewhere exotic? Start saving a little each month. Talk to your bank or financial consultant about how to grow your money. That money is going to be yours to use for what you want! Not for your kids, not for your parents, for you!
5. Reach Out to Other Woman who Understand– Just know you are not alone in how you are feeling. Women reaching mid-life are dealing with too many emotions to handle, and they cannot do it alone. Talk to other women going through the same thing. Talking with someone who truly understands can really lift some spirits. Isolation will make everything worse.
If you are a mother facing overwhelming mid-life emotions, just remember even though you can never escape some kind of responsibility completely, you can make things change for the better and live a more satisfying life. You can go after what you want. Focus on what you do want, while you are taking action and planning. By doing that, you will feel better. And most importantly, your needs and wants matter! #WomensLives