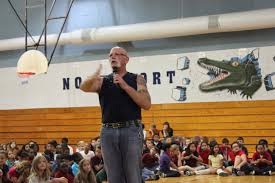 On the last Expressive Mom Show, Miriam Slozberg interviewed Joe Wojcik, who is a bullying expert that uses a unique persona known as Joe the Biker to presents his anti-bullying message. He has presented to over 150,000 students throughout the United States. As Joe the Biker he helps children deal with bullying. Students look at him as the protector of and advocate for those who are being bullied. He sets out on his motorcycle cruiser to put a stop to bullying in schools by delivering educational programs targeting a variety of audiences. His powerful performances resonate with students as he delivers messages of hope and possibility. He shares profound insights, perspectives and education through presentations and performances.
On the show, we covered a lot about the affects of bullying. Joe and I spoke about why bullying today is worse than it was 20 years ago or earlier. He also spoke about his experiences with being bullied, and was overweight as a child, and was called Yubbie by the bullies. However, he made something positive with that cruel name and created a foundation for bullying awareness called The Yubbie Foundation. We also covered the long term affects of bullying, and other signs that a child is being bullied. Please listen to the podcast, as awareness about bullying needs to be spread more.
Please visit Joe's sites at http://www.yubbiefoundation.org and http://www.joethebiker.com.