Any parent will get thrilled when their toddler begins to crawl. However, there's a downside to having a crawler at home.  It's time to think about babyproofing. Children are very curious and tend to get their little hands on everything around them. But when your baby grabs things like sharp objects, electrical sockets, and cleaning detergents, they can easily get harmed. As a result, you'll want to have a babyproofing system with a robust locking system and sturdy baby gates to keep your little one out of trouble. A childproofing system helps to put harmful items away from children and steers them away from spaces where they're likely to get hurt. If you're considering babyproofing your home, you may want to consider a top-of-the-line baby system with superior features – Smart Baby Systems.
Smart Baby Systems is a top-quality home babyproofing system that combines a smart locking kit and customizable baby gates. This smart childproofing system provides instant security to any area around your home with easy-to-install baby gates, which are designed to auto re-lock. It helps you to put items that can harm your baby on the lockdown and prevents your baby from accessing the rooms they need to avoid.
Smart Baby Systems are equipped with smart features that allow you to seamlessly babyproof your home and guarantee the safety of your little one.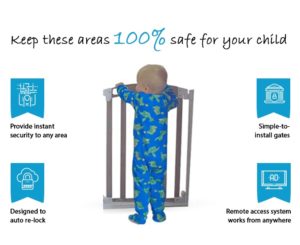 Key Features
Smart locking system
Smart Baby Systems comes with innocuous locks that can be installed in different enclosures to ensure children don't gain access. The locks are technologically advanced; hence, they are truly secure.
Smart compatibility
This feature allows you to integrate your smart baby system with smart home speakers, smart storage cabinets, smart office desks, and other smart devices. This improves the functionality of your baby proofing system.
Voice-enabled technology
This feature allows you to connect your system with smart home speakers for locking and unlocking with a voice command. This allows you to control the system as you perform other household chores.
Easy digital access
Smart Baby Systems allows you to access any area that is secure using your smartphone, or a voice command or backup remote.
Pros
• It comes with simple-to-install gates.
• It allows you to control your babyproofing system from any place at any time.
• It's versatile hence can fit into any home or childcare center.
• The system is easy to install. You simply need to connect the device to a power outlet, download the custom app, and you're good to go.
• It comes with backup manual functions to allow you to operate the system when there is a power outage or a network outage.
• It comes with standard kits that can be customized to meet individual needs.
• Comes with a 12-month warranty
Smart baby systems technology is a must-have baby and toddler safety system for an elevated level of safety and security for your child. Moreover, it gives you easy access to different doors, rooms, drawers, and other spaces. With Smart Baby Systems, parents no longer have to worry about environmental harm to exploring toddlers.