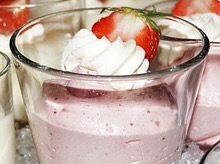 As parents we want to do our best to set a good example for our kids such as eating healthy. It is not always possible to do that, especially when we are in a rush. How many times do we stop at fast food restaurants to pick something up on the way because we don't have the time to cook up a healthy meal? Too many times to count. Especially if we are driving the kids around due to one appointment after another, or to or from school, or an after school activity. Not to mention we are busy with our own stuff, whether we are working or not.
Due to unhealthy eating, many develop type 2 diabetes and that is a concern even for kids. Many overweight kids that don't get a lot of exercise end up developing that condition. It is our responsibility as parents to not let that happen. We have to remember to take care of our health as well.
A fun activity when there is time is to bake with the kids, especially desserts. Why not find a fun and healthy recipe to use to make something very tasty. Here is an example of a nice treat that the family can make and enjoy together.
Strawberry Mousse Diabetic Recipe
2 cups fresh unsweetened strawberries
4-oz frozen reduced-calorie whipped topping
Substitute sugar equivalent to 60 grams of sugar
½ package sugar-free pudding mix
Directions:
Place strawberries and sugar substitute in a blender and process until smooth. Strain seeds and discard. Return strawberry mixture to the blender and process again. Add sugar-free pudding mix and process until smooth. Transfer to large bowl. Fold in whipped topping. Spoon evenly into desert dishes. Refrigerate until serving time.
Whether you want to prevent or cure diabetes naturally maintaining a special diet, that doesn't mean you can't enjoy the dishes and favorite desserts you like! You just have to make them a different way.
Enjoy!