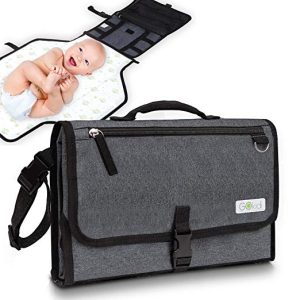 Are you expecting? Or do you have a friend, family member or co-worker that is? Then you will want to look into getting the Gokidi Portable Baby Changing Pad to use with the upcoming bundle of joy. What exactly is the Gokidi Portable Baby Changing Pad? It is a diaper bag clutch that unfolds to diaper change station. It is a detachable and waterproof mat which has non-slip straps, as well as pockets for wipes and accessories.
This product is ideal for busy and trendy moms who will be delighted to see that keeping their babies clean on the go is a breeze. This portable changing station doubles as a fashionable handbag and secret diaper bag! It holds changing gear and unfolds to a mat when baby needs a change.
The portable design is optimal because the lightweight composition makes it essential for traveling parents. The padded changing mat is detachable to be used on its own or together with the clutch which has pockets for diapers, wipes and more!
The pad is also laminated, and is designed for those quick changes and unavoidable messes – the baby changing pad is 100% waterproof and the clutch is water resistant. Both can be cleaned with just a wipe and won't get damaged by liquids and spills.
Another great feature about this product is that the pockets are made to keep everything inside. Moms and dads can organize their baby changing essentials in the two zipper pockets and 1 mesh pocket inside! While wet wipes often slip out of other changing stations, the Gokidi Portable Baby Changing Pad pockets are designed with straps to keep them secure!
And last but not least, the product has adjustable wrist and stroller straps. The straps can be quickly attached to any stroller, car seat or your hands. It also has a keychain clasp. This 3 in one clutch, diaper bag & changing pad makes a great gift or baby shower present.
This is a must-have for expecting parents, or for parents that already have newborns. Get the Gokidi Portable Baby Changing Pad here on Amazon now!