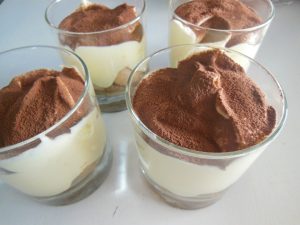 Did you know that Tiramisu is  Italian for 'pick me up'? From the meaning, you know many people like its taste. Making Tiramisu usually involves complicated steps. But if you really love Tiramisu, you can always find a way. Here is a not so complicated recipe.
Tiramisu Recipe
Serve: 8
Ingredients:
8 egg yolks
3/4 cup sugar
3 1/2 tablespoons water
6 servings short espresso
2 1/4 tablespoons amaretto
1 1/4 cups sweet cream
20 oz mascarpone cheese
20 oz biscotti
3 tablespoons cocoa
Preparation:
Use an an electric mixer, on high speed, to beat the egg yolks in a large bowl until they become thick.
Meanwhile, put the sugar and water in a small saucepan. Stir while low heating the mixture to a boil.
Place a candy thermometer and continue to heat until the temperature reaches 250 degree F.
While the egg yolks are mixing, pour in the sugar syrup. Continue to blend until the mixture become bright yellow and airy. Set aside.
Mix the espresso and amaretto in a bowl. Stir well and set aside.
Whip the cream until it forms stiff peaks. Set aside.
Put the mascarpone cheese in a large bowl, whisk until smooth. Fold in the egg yolk mixture. Use a rubber spatula to mix until blended.
Fold in the whipped cream and mix until smooth.
Dunk the biscottis into the espresso and transfer to a glass serving bowl with a flat bottom and high sides until the biscotti covers the bottom of the bowl fully.
Now, pour in the cheese mixture until it reaches 1/3 of the height of the bowl. Sprinkle 1 tablespoon cocoa on top.
Top with another layer of espresso-soaked biscottis. Pour in the cheese mixture until it reaches about 2/3 of the bowl. Sprinkle 1 tablespoon cocoa again on top.
Add in the final layer of espresso-soaked biscottis. Top with the remaining cheese mixture.
Chill for 3 hours in the refrigerator.
Before serve, sprinkle the remaining cocoa on top.