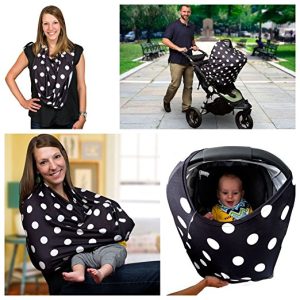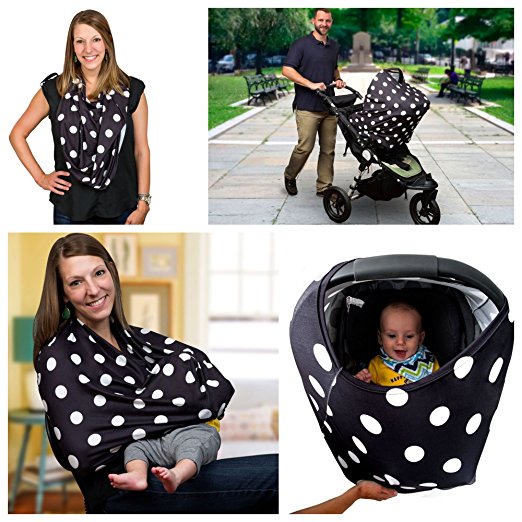 Are you currently expecting? Or do you have a friend, coworker or family member expecting sometime soon? If you answered 'yes', then you will be delighted to know that an incredible multi-use breastfeeding cover scarf canopy exists to help parents in many ways. Even parents who are formula feeding will absolutely love this gem!
Sprout'n Smiles has this fantastic multi-use nursing breastfeeding cover scarf canopy that is geared towards boys and girls. This gem is what very tired and worn out parents' need and it is a dream to them.
This amazing product not only solves any breastfeeding moms needs (remember, formula feeding moms will love this too), this cover can also be used as a car seat cover, high chair and changing table cover, and a shopping cart cover.
Breastfeeding moms absolutely love this product because it is incredibly soft and breathable. The cover is made out of high-quality rayon fabric. This will wrap all the way around and there is no need to ever worry about the baby kicking it off or of it slipping off.
This canopy is also an excellent shield for protection for the baby from the wind, the rain, snow, too much sun, and from germs. Therefore, it will help keep the infant healthy. Another great thing about this product is that it will also keep the baby protected from nosy strangers who want to stop and ask tired parents millions of questions about the baby. They won't see the baby, so there will be nothing for them to ask.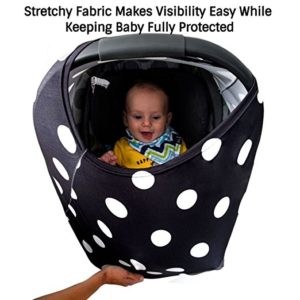 The bonus thing that this product offers moms is that they can wear it as a lovely infinity scarf. That means it will look attractive and stylish for mom.
Therefore, if you are the one who is expecting then you will know what to add to the list of gifts for your baby shower that you want! If you are going to be a new aunt or uncle, godparent, or want to get a friend who is expecting a baby a useful gift that they will love- this multi-use nursing breastfeeding cover scarf canopy is it!
Sprout'n Smiles only sells the highest quality products around, and if you are not satisfied, they guarantee to make it right!
You absolutely cannot go wrong.
There are many Amazon reviews on this product and all of them are glowing. Here is an example of one review from a very happy customer:
This cover is perfect! I'm a dedicated auntie and godmother, so I keep what I call an "auntie stash" so I'm prepared for all of my littles. I've used this for the high chair and see that it is so versatile for other uses. I love the dark color. It washed beautifully. Would make an excellent baby shower gift.
Here is another glowing review:
I love the versatility of this baby car seat cover canopy by Sprout'n Smiles. It's very economical knowing the fact that I can use it for many for the comfort of my baby. The best product I could recommend to parents especially moms who want to give the best for their babies.
This aunt or uncle said the following about the product:
I gave this to my niece who just had a baby boy a few months ago and she loves this canopy and uses it cover while breastfeeding! She loves how durable it is and has so multi-functions to it. Wonderful product.
These are just a few of so many positive reviews from customers who have purchased the product. If you are expecting or know someone who is, what are you waiting for? Get the multi-use nursing breastfeeding cover scarf canopy from Amazon today. For a limited time, Sprout'n Smiles is offering a $1.00 off coupon only on Amazon.