If you think what I am about to present to you is some mystery shopping opportunity, you are wrong. That is because what I am about to tell you is as real as it can get, and it is not too good to be true. There is an app that you must download called Fluz that will reward you with cash back when you are shopping at your favorite stores or outlets. 
Additionally, if you refer people to the app through your link, you will also be rewarded by cash based on their purchases. This is also not just a one-time bonus as soon as you invite someone to join Fluz under your name. As long as they keep using their Fluz app while they make purchases, you will keep earning from the purchases they make on an ongoing basis!
You could potentially end up earning a lot of cash this way as well. Because when your friends invite their friends, your network will keep growing and so will the amount of cash that you will earn! Do you see if you don't download this app how much money you could be leaving on the table? You can end up earning a lot of money for being social!
How Does Fluz Actually Work And How Does Using The App Pay You?
We are glad you asked this because we are here to be as transparent about how this works as possible. It is easy to be skeptical when you hear of apps helping you make money so easily the way Fluz does. The way it works is that retailers across the USA pay Fluz to increase their network of shoppers. Fluz divides that sum up and distributes that across the network. And that is it, that is how it works, and through that method, that is how Fluz pays you. 
When you have enough cash to redeem through Fluz based on the purchases that you as well as anyone in your network has made – you can transfer it over to your PayPal address which you can transfer to your bank account! That's it! It is that easy. 
Which Merchants Does Fluz Offer Cash Back From?
You will be pleased to know that Fluz offers cash back from the top merchants across the USA. If you are purchasing furniture, flowers, pharmaceutical supplies, or if you are dining out, you will earn from Fluz as long as you use the app. Some of the merchants include:
Hulu

Pizza Hut

Domino's Pizza

Chipotle Mexican Grill

Papa John's Pizza

Nike

Macy's

Sephora

Foot Locker

Xbox

Barnes And Noble

Apple Music

AMC

Adidas

Sunglass Hut

Panera Bread 

Burger King

Boston Market

Spotify

CVS
Baby Gap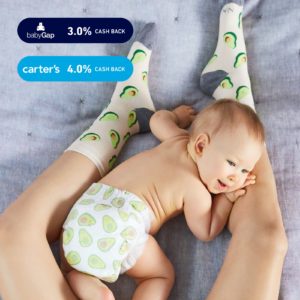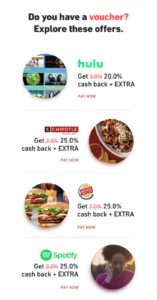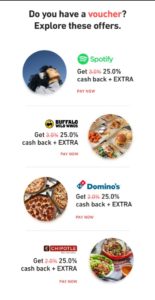 And the list goes on! Fluzz has been featured on major publications such as HuffPost, Forbes, and TechCrunch! That is because you will be missing out on so much if you do not install this money-making app!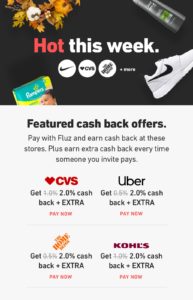 Join Fluz with this link, and earn up to 35% cash back at the major merchants. Fluz is only for US residents at this time.