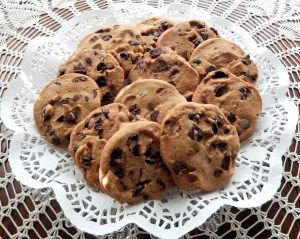 I've started getting into healthy dessert recipes. Fortunately I am not diabetic but because I am getting older and overweight, I want to prevent it as much as possible. Yet, I still have a strong sweet tooth. Baking with kids is a great way to bond and also a great way to satisfy their need to taste something sweet. That is without worrying about them getting too much sugar.  I have a fantastic recipe to share that i know everyone will love!
Here is a great diabetic friendly recipe for making chocolate chip cookies!
1/4 c. margarine
1 tbsp. granulated fructose
1 egg
1 tsp. vanilla extract
3/4 c. flour
1/4 tsp. salt
1/2 c. mini semi-sweet chocolate chips
Cream together margarine and fructose, beat in egg, water and vanilla. Combine flour, baking soda and salt in sifter. Sift dry ingredients into creamed mixture, stirring to blend thoroughly. Stir in chocolate chips. Drop by teaspoonful onto lightly greased cookie sheet about 2 inches apart. Bake at 375 degrees for 8 to 10 minutes. Makes 30 cookies.
Enjoy!