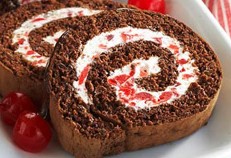 Have you tried Black Forest Cake, and better yet a healthy diabetic friendly version of it? This is a great tasty recipe you can enjoy with the family!
Ingredients
1/3 cup flour
4 eggs
1/4 cup unsweetened cocoa powder
1/4 teaspoon salt
1/4 teaspoon baking soda
3/4 cup granulated sugar*
Unsweetened cocoa powder
1 tablespoon sugar-free warmed hot fudge ice cream topping
Cherry Cream Filling Recipe
10 maraschino cherries, drained and patted dry
1/2 cup tub-style light cream cheese
1 cup frozen light whipped dessert topping, thawed
2/3 cup maraschino cherries
Be sure to allow the eggs to stand at room temperature for 30 minutes, and go grease a 15x10x1-inch baking pan a the same time. Be sure to put parchment paper at the bottom of the pan, lightly flour and grease paper as well. Now set the pan aside and in a small bowl stir together flour, 1/4 cup cocoa powder, the baking soda, and salt. Set it aside for now. Be sure to then preheat oven to 375 degrees F, and in a large bowl beat eggs with an electric mixer on high speed for 5 minutes. Slowly add the granulated sugar, beating until thick and has the same colour as lemon. Fold in flour mixture and spread batter evenly into prepared pan.
Go and bake about 15 minutes or until top springs back when lightly touched, and immediately loosen edges of cake from pan and turn cake out onto a towel sprinkled with unsweetened cocoa powder. Gradually peel off parchment paper and starting from a short side, be sure to roll up towel and cake into a spiral and cool on a wire rack for 1 hour. Now take care of the cherry filling and prepare it.
Beat cream cheese with an electric mixer until smooth. Add 1/2 cup dessert topping; beat on low speed until just combined. Fold in another 1/2 cup dessert topping. Drain, stem, and pat dry maraschino cherries. Chop cherries and fold into cream cheese mixture and it makes 1-1/2 cups.
It is time to unroll the cake and remove the towel. Spread cake with cherry cream filling to within 1 inch of edges. Roll up cake and filling into a spiral and trim ends. Cover and chill in the refrigerator for 2 to 24 hours before serving. This makes 10 servings per recipe, and it is 177 cal., 5 g total fat (3 g sat. fat), 91 mg chol., 180 mg sodium, 30 g carb. (1 g fiber, 23 g sugars), 5 g pro. Go and enjoy!