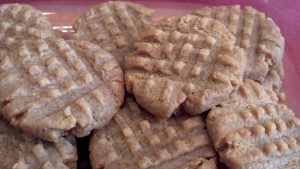 I've been having a lot of fun lately clipping out diabetic friendly recipes to make use of. I am not diabetic but it does run in the family. Having too much sugar in anyone's diet can be quite detrimental, and I would like to limit sugar intake as much as possible. We all have a sweet tooth, and that is why it is hard to resist sugary foods and desserts. However, diabetic friendly dessert recipes are the way to go. Here is an excellent one I found.
Diabetic Friendly Peanut Butter Cookie Recipe 
1/3 c. plain flour
1/4 tsp. baking soda
1/4 tsp. baking powder
Pinch of salt
2 tbsp. shortening
2 tbsp. peanut butter
1 tsp. Sweet 'n Low
1 egg, beaten
Mix and stir all ingredients in order (flour, baking soda, baking powder, salt, shortening, peanut butter and Sweet 'n Low). Add beaten egg and mix well. Drop by large teaspoon on greased cookie sheet. Bake at 350 degrees for 10 minutes.
Have fun with your family and bake some diabetic friendly cookies, whether there are issues with blood sugar or not! It's always better to be safe than sorry!