Between the constant drilling, banging, sawing, I have to say I have been going out of my mind. Listening to all of that is very distracting. And I am looking forward to the day when that ugly bin is removed from my parking space on the driveway. However, at the same token, I am not going to complain otherwise because the basement is really becoming a masterpiece. And it is awesome to watch the progress. It has been slower than expected because it took a bit longer than expected for the plaster to dry up but finally it has.
As you can see on the photo below, they put in the laminate flooring, and I love the look of it, as it looks like dark hard wood. I am very happy with the choice. They put the primer up, and are getting ready to paint. Oh the doors are up. The door on the right, by the stairs is leading to the bathroom (which is a complete mess right now), and the door on the left leads to the unfinished storage area.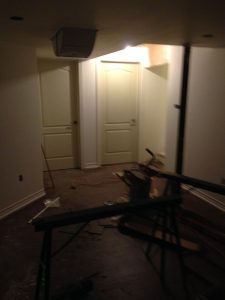 Here is a close up of the door which leads to the bathroom. I think it is looking great.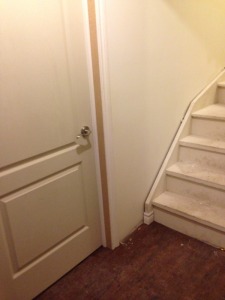 And in the photo below is where I plan to move my home office. I think it will be a good area to work.
So what is left to do? Well the painting, they have to finish up with the ceilings, the lighting, the switches and outlets, and the bathroom vanity and fixtures. Will they get to all of that this week? It is difficult to say but for sure by next week the masterpiece will be done. Now, we have to look into furniture and thankfully we are heading into a time when sales are on the rise. This has NOT been a cheap job, but an investment worthwhile. It is coming!
Additionally, we considered having epoxy flooring in our garage and still are thinking about it. But hey if you are thinking about doing the same, you will want to learn more about the process.