Whew, what a long process this has been with the basement construction. They have about a week and a bit to go with this, and I honestly cannot wait until it is over and done with so we can enjoy the basement. I can also move my office down in that area as well. Right now, the plaster is drying up. Therefore, they can't do a lot of work on the walls. It has to be 100% dry before they finish the job up.
However, the guys have been doing a lot of work on the bathroom- and it is actually starting to look like one! Especially now that they have the tiling on the floor and in the shower. The sink, toilet and the rest of the shower stall is missing but they will finish that up next week at the latest.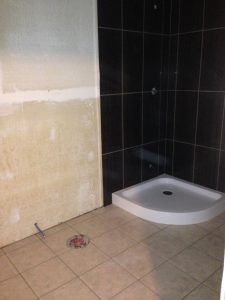 What do they have left to do? They need to paint, finish up the ceilings in the rec room (it's been all done in the bathroom), they must put the baseboards on, and yes.. the doors need to go up. The storage area that has the fuse box, water switch and cold cellar had to stay unfinished and that needs to be hidden! So yes, we will certainly need doors. I will continue to keep the updates going. Nice to see progress, even though it seems quite slow!