Blame it on the warm weather, but the city of Miami is known worldwide as one of the best places to party in the entire United States. Sometimes known as the Capital of Latin America, Miami has a distinctly Spanish flair, making it a truly unique place to visit.
But you don't have to party just because you're in Miami. The island city of Miami Beach, while it has plenty of wildlife of its own, is also a fantastic place for a family vacation. And there's lots more to do here than just the beach. With amusement parks, great restaurants, and plenty of outdoor fun, Miami Beach makes a wonderful location to explore with the kids.
Drop off your bags at a luggage storage in Miami Beach and see how much this place offers. By the time you're finished, the kids will be demanding to know when you can return.
Miami Beach Boardwalk
One of the most popular attractions in Miami Beach is also one of the most family-friendly. The boardwalk runs for 2.5 miles along the beach, making it the perfect place to take a leisurely stroll, go for a run, or even ride a bike. Many vendors and kiosks can also sell souvenirs, ice cream, and other snacks.
During certain times of the year, street performers and musicians can also play along the boardwalk. If you're lucky enough to be visiting during one of these times, stop and enjoy the show.
South Pointe Park
This 17-acre public park is located at the southernmost tip of Miami Beach. It's a great place to come for a picnic, to let the kids run around and burn off some energy, or to enjoy the stunning water views.
There's also a playground and a dog park if you're traveling with your furry friend. And if you want to swim, the beach here is one of the busiest and most popular in Miami Beach.
Make sure to come early, as the parking lot can fill up quickly on busy days.
Lincoln Road Mall
Spending a day traipsing around the mall might be different from your idea of fun. Then again, on a hot and humid Miami day, sometimes you want to do something easy that will keep the kids entertained. Lincoln Road Mall definitely fits the bill.
Lincoln Road Mall is an open-air pedestrian mall filled with high-end shops, restaurants, and cafes. Even if you don't plan on shopping, it's still a great place to people-watch and soaks up the Miami atmosphere.
And since the mall is located right off of Collins Avenue, it's easy to get to from just about anywhere in Miami Beach.
Miami Children's Museum
Located in the heart of Miami, the Miami Children's Museum is a great place to take the kids for a day of learning and fun. With 14 different galleries, there are tons of interactive exhibits for kids to enjoy.
Exhibits include a grocery store, a castle, an art studio, and even a pirate ship. And if your kids get hungry, there's a cafe on site that serves healthy meals and snacks.
Admission to the museum is $20 for adults and $15 for kids over 12 months old. If you want to save some money, though, you can come after 3 pm on weekdays when admission is just $5 per person.
Lummus Park
Located in the Art Deco Historic District of Miami Beach, Lummus Park is a great place to come to relax and enjoy the outdoors. Plenty of grassy areas make it perfect for picnicking or flying a kite.
There's also a playground, a basketball court, and a fitness center. And if you're looking for something fun to do at night, the park hosts free movie screenings on select nights throughout the year.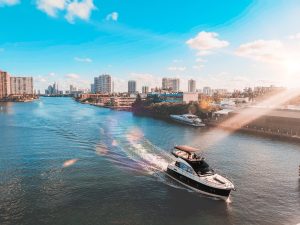 Unsplash – Lize-Mari Jooste
Museum of Illusions
Ready to have your mind blown? Then head to the Museum of Illusions. This museum is filled with optical illusions, holograms, and interactive exhibits that will challenge your perception of reality.
Exhibits include a room where you appear to shrink, a mirror maze, and an upside-down room. And if you're feeling brave, you can even walk across a glass floor that's suspended high above the ground.
This is a great place to bring both younger and older kids. Younger kids will get a kick out of the mind-bending illusions, and teenagers will get some great photos for their social media feeds. That makes it a great family activity in Miami Beach.
Oleta River State Park
If you're looking to get away from the hustle and bustle of the city, then head to Oleta River State Park. This urban state park is located just north of Miami Beach and offers plenty of activities for the whole family.
You can hike or bike on one of the many trails, picnic by the water, kayak or stand-up paddleboarding, or relax on the beach.
And if you have young kids in tow, they'll love playing in the playground or visiting the farm animal petting zoo.
Conclusion
The island Miami Beach is built on may be small. But that doesn't mean this popular area lacks things to do. Far from it. In fact, this area of Miami is a fantastic place to visit with kids, and the activities it offers are fun for everyone, including adults.
Drop off your bags at a luggage storage location in Miami Beach, and you'll be able to explore all the family fun there is to do here. It's the perfect place for an unforgettable vacation with the kids.