With plant-based meats becoming a growing trend in 2022, according to Entrepreneur,  You will want to know about Nowadays! This newly launched plant-based meat company offers crispy vegan nuggets with a classic fried chicken texture and taste and sustainable and straightforward ingredients. 
Today's nuggets are made from seven pronounceable ingredients – organic yellow peas, whole wheat flour for a crunchy breading; sunflower oil for the crispiness and golden color; plant-based fiber for texture; and yeast and mushroom extracts for a meat-like umami flavor.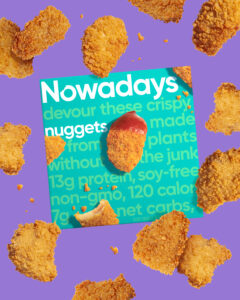 Furthermore, today's cutlets do not contain soy, added sugar, thickeners, binders, or artificial flavors, making them the most nutritious plant-based chicken available. Each serving has 13g of protein, only 120 calories, no saturated fat, and only 250 mg of sodium (a significantly better nutritional profile than both leading organic and natural nugget brands and other plant-based nugget brands). Do you like what you hear so far? Let's go over some recipes that you will love, that are directly from the Nowadays blog: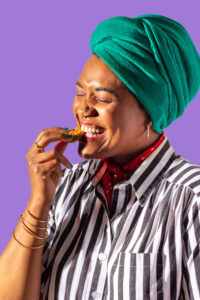 Prep Time: 20 minutes | Cook Time: 15-20 minutes | Servings: ~12
Ingredients
10 Nowadays Nuggets, cooked & chopped
2 cups Bisquick
⅔ cups your preferred* unsweetened milk
½ cup corn kernels (fresh or frozen)
¼ cup green onions, chopped
½ cup your preferred* shredded cheese
Preparation
Mix all ingredients until thick dough forms.
Cooking Options:
FRY them: Preheat a neutral oil to 365º F. Drop 2 TB of dough into the oil and fry until golden brown. Fry around 2-3 at a time, depending on your pot size. When finished, place on paper towel to drain. Let the oil come back up to temperature and repeat.
BAKE them: Preheat oven to 375º and drop 2 TB of dough onto a parchment-lined baking sheet. Bake for 10-12 minutes until the tops are golden brown.
Enjoy with your fave sauce. We picked a smoky chipotle cream!
*Your preferred: Nowadays prefers the deliciousness of plant-based milk & dairy products.
Prep Time: 25 minutes | Cook Time: 90 minutes | Servings: 12
Ingredients
25 Nowadays Nuggets (1lb)
1 package dry seasoned stuffing croutons (12oz)
1 large onion, diced
2 stalks celery, diced
2 Sweet Italian Beyond Sausage links
1 can water chestnuts (5oz), chopped
3 oz baby spinach, rough chopped
¼ c fresh parsley, chopped
2 cups veggie broth
6 acorn or carnival squash, cut in half and seeds removed
2 tsp poultry seasoning
salt & pepper to taste
Preparation
Preheat the oven to 425°. Bake nuggets for 12 minutes until golden, remove and let cool. Lower oven temperature to 400º.
Drizzle olive oil inside squash halves, smear to coat. Sprinkle inside with salt and pepper. Turn cut side down on a parchment-lined baking sheet. You can pierce bake squash for 45 minutes until outside easily with a fork (you can do this while preparing the filling).
Prepare to fill by heating oil in a large sauté pan over medium heat. Cook the sausage, breaking it into smaller pieces until golden brown for about 5-6 minutes. Once cooked, add to a large bowl.
In the same pan on medium heat, add 1 TB olive oil and sauté onions and celery until soft and translucent. It is approximately 5-7 minutes. Add in spinach and cook until wilted, about another minute. Then add the mixture to your large bowl.
Chop the nuggets into bite-sized pieces and add to the bowl along with the remaining ingredients, stuffing croutons, water chestnuts, parsley, and poultry seasoning. Stir to combine. Add broth to moisten the stuffing and stir, allowing the liquid to be absorbed. Let sit until the squash is ready.
Once the squash is soft, flip them over and fill them with generous amounts of stuffing. Place back into the oven for 20 minutes until the top is crunchy and the center is hot.
Serve topped with your favorite gravy!
NOTE: Reserve any remaining stuffing in an oven-safe dish and bake along with the squash to serve on the side.
There are many other recipes you can try out and all you have to do is go on the Nowadays recipe blog!